About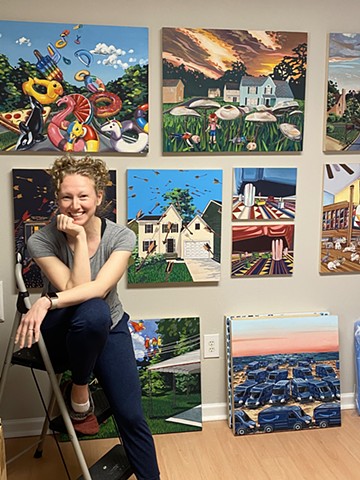 As a child growing up in the woods of northeast Georgia, Alice Stone-Collins chased fireflies at night and traded Lisa Frank inspired slap bracelets by day. While she has lived and worked in the midwest and the mountains of Colorado, the spaces of her upbringing have continued to haunt and track through her work. Asking questions of tradition and resistant to the ties that bind, her work questions if beauty can come from the mundane, the everyday, the apparent dead?
Alice was exposed to art a young age by her Grandmother who was an avid collector of Howard Finster. These pieces both comforted and challenged Alice who was fascinated with the dueling effects of imagination and reality in Finster's work. She took this curiosity with her to the University of Georgia where she received a BFA in Drawing and Painting. At the University of Tennessee, Alice continued to explore the lines and borders of imagination and reality, by illuminating those tensions through installation, sculpture and 2-D methods.
Alice earned her MFA in studio art from the University of Tennessee and has exhibited her work regionally and nationally. She has been a resident artist at KMAC (Kentucky Museum of Art and Craft) based out of Louisville and the David and Julia White Artist Colony in Ciudad Colon, Costa Rica. She was also a finalist for the Jean-Claude Reynal Scholarship among other honors and awards.
Currently, Alice is a faculty member at Georgia Gwinnett College in Metro Atlanta where she invites others to explore and expose smaller and larger worlds of possibility.